Root canal treatment, also known as Endodontics is a type of dentistry that manages the dental pulp and its supporting structures. The dentist aim is to preserve a tooth in function especially when the cost of tooth loss and replacement is much greater.
Before starting treatment, the dentist will first make sure that you will not feel any pain by using very effective local anaesthetic, then they will very carefully and thoroughly clean the inside of the canals. When they are satisfied that the canals are 100% clean he will fill and seal them. This may be done over one, two or even three visits. Low dose digital x-rays are used as necessary.
After root canal treatment, the tooth will need reinforcement with a post and crown to improve the long term prognosis and prevent tooth fracture.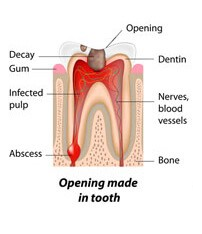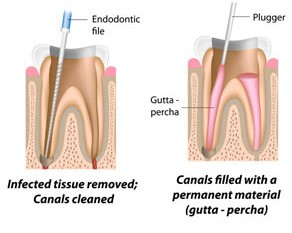 To help you make an educated decision regarding root canal treatment, here are some of the pros and cons of this procedure:
Relief from debilitating pain and discomfort
Avoiding an abscess, the spread of infection, and damage to the oral bone
It is less painful than tooth-extraction, which will leave a gap
After this treatment, the tooth will need reinforcement with a post and crown
A root canal procedure is much more complicated than a tooth extraction
A root canal procedure is so much more expensive than a tooth extraction