A crown is a custom made cap that fits over a tooth. Normally this is to prevent the tooth from further fracture in the future, especially if the tooth is heavily filled or has undergone root canal treatment. Crowns can be made in metal/gold or tooth coloured crowns can be made from porcelain and/or zirconia.
Crowns are used to improve the appearance and function of discoloured, weakened, or irregular teeth. They are fixed to an existing tooth or dental implant, capping or surround them depending on the circumstances.
Most common types of crowns in modern dental practice are:
Ceramic crowns – with a good strength and good aesthetics. They applied mostly in front areas of the dental arch.
Zirconium crowns – biocompatible with excellent aesthetics and durability (very high strength). Apply to the entire dentition.
Metal crowns – healthy but unaesthetic. Applied in the final occlusal areas in lack of space.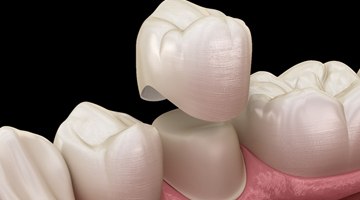 To help you make an educated decision regarding dental crowns, here are some of the pros and cons of this procedure:
Support a tooth that has been significantly damaged by decay
Protect a tooth that has worn away from being damaged further
Protect a tooth after a root canal procedure
Hold a severely cracked or broken tooth together
Cover a dental implant
Improve the appearance of a tooth by changing its shape or colour
Irreversible procedure as the tooth needs to be shaped
The cement that holds the crown may come loose although rare
You may suffer from temporary sensitivity