Dental implants are artificial tooth roots that are surgically anchored to the jaw to hold a replacement tooth or bridge in place. Implants are a good solution to tooth loss because they look and feel like natural teeth. When people lose or break their teeth, the teeth may be replaced with implants.
The most modern, long term replacements for real teeth, offering high success rates & a realistic looking replacement for a lost tooth.
Implants become necessary when the root of a tooth has failed, leaving a gap in the mouth where it was. This means there is nothing for the dentist to work with or attach any crowns or veneers to. Dental implants are the solution to this problem. Dental implants are titanium screws inserted into the jawbone to act as the foundation for further treatment.
Today, implants have many useful applications, from stabilising dentures to single tooth replacement and more complex fixed restorations.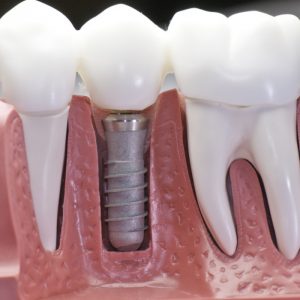 To help you make an educated decision regarding dental implants, here are some of the pros and cons of this procedure:
Dental implants can last a lifetime with proper care
Dental implants look and feel like your own teeth
Implants can also be used to secure removable partial and full dentures
You will need more than one appointment to complete your implant treatment
There may be insufficient bone for implant placement
Initial implant expense may be costly, but in the longterm, is actually more cost-effective